Reaching Samoa for Christ
On air in Apia on 95.1 FM
and Apia on 103.1FM
Even if you're not near one of our stations you can listen to Laufou O Le Talalelei now with our internet stream. Simply click the Listen Live button. Uses approx 60Mb/hour
'I will praise You seven times a day.' Psalm 119:164 TLB
A bad attitude is like a flat tyre; you won't get anywhere until you change it. Few things in life are more important than your attitude, and here are four ways to help you keep a good one:
(1) Realise your attitude needs to be constantly adjusted. Anything you don't maintain eventually deteriorates [breaks down]. The stronger you naturally lean towards doubt and negativity, the more you will have to work at it. Begin each day with an attitude check, and throughout the day, look for red flags [signs] signalling that you're not doing so well.
(2) Pray because you will need God's help to maintain a good attitude. The Bible says: 'Trust in the Lord and do good. Then you will live safely in the land and prosper. Take delight in the Lord, and He will give you your heart's desires. Commit everything you do to the Lord. Trust Him, and He will help you.' (Psalm 37:3–5 NLT)
(3) Look for what's good, and you will find it. Australian author and evangelist Nick Vujicic says, 'If you can't get a miracle, become one.' If God can use Nick, a man without arms and legs, to be His hands and feet, He can use any willing heart. Including yours!
(4) Look for people with faith and spend time with them. Where are they? You will find them soaring above the doubters like eagles. If you're having a bad day, get close and 'draft' behind them the way racers do. If they're having difficulty, you be the one to get out in front and make things easier. Seven times a day David paused to praise God. Can you imagine what that would do for your attitude?
SoulFood: [bible passage="Lev 16, Lev 23:26–32, Heb 9:1–14, Heb 13:11–16″ version="esv" heading="H3″]
The Word for Today is authored by Bob and Debby Gass and published under licence from UCB International Copyright ©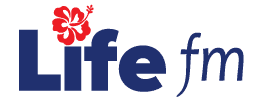 Listen to our partner youth radio station
Uses data: approx 58Mb per hour of listening
Join our team as they bring you the latest and best Christian music and teaching from Samoa and around the world!
Reaching Samoa for Christ
Inspirational Music
Inspirational Teaching
It's here in Samoa just for you!
Have you got your copy?  Come and visit up at the station.
Part of UCB's global family
United Christian Broadcasters
The UCB Family extends all around the world. Each ministry is independent but unified in our desire to reach Samoa and the nations of the world through Christian media.
Find out more at UCB International's website or by clicking on the links below.